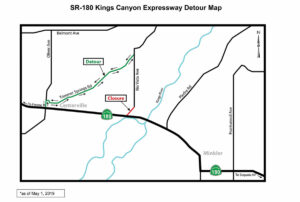 SR-180 Kings Canyon Expressway
CONSTRUCTION DETOUR NOTICE
WHAT:
Rio Vista Avenue will be CLOSED with DETOURS in place at Oliver Avenue and Trimmer Springs Road to construct NEW intersections on the SR-180 Kings Canyon Expressway near Centerville, in Fresno County. Motorists are advised to use DETOURS and may experience slight DELAYS through the 4.5-mile Construction Zone. TRUCKS must use Belmont and Academy Avenues. *Please see Detour MAP on backside
---

WHEN:
DETOURS will be in place May 9, 2019 and remain in place through June 20, 2019–Weather permitting.
---

ACCESS:
Emergency Services Access along with Public Access will be provided for all Businesses and Residents in the Construction Zone.
---

SCHEDULE:
This $54.2 million project is locally funded by Fresno County's half-cent transportation sales tax, Measure C leveraged with Federal and State transportation revenues. It is scheduled for completion in Fall 2020, weather permitting. Caltrans reminds motorists to Slow for the Cone Zone and thanks the community for their patience during the construction of this much anticipated project.
---

QUESTIONS:

For additional information on this project, please contact: Rose Willems, Measure C Advocate; 559.681.9369 or rose@measurec.com