MEASURE C FUNDING
Originally approved in 1986, and overwhelmingly reaffirmed with a 78% vote in 2006, Measure C is Fresno County's answer to the Valley's infrastructure needs. Money generated through the approved half-cent countywide sales tax is used to extend freeways, improve roads, and enhance public safety.
For the past twenty years, Measure C has made it safer, faster, and easier to travel throughout the Valley. And with Measure C altered to reflect a more multi-modal program and approved for the next twenty years, the County's infrastructure, and the quality of life of its people through things like better air quality and higher safety elements, figures to be in good shape for the future.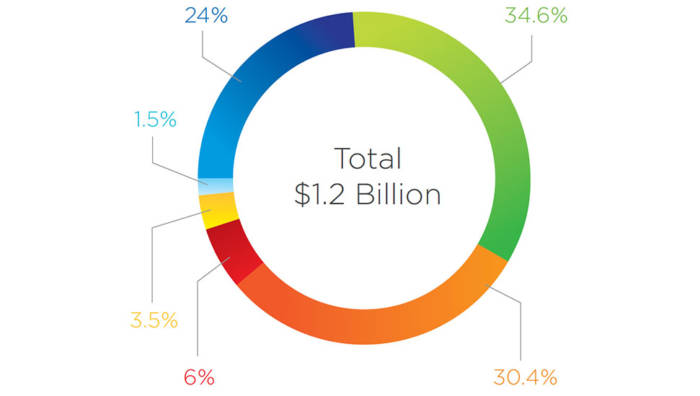 Measure C is creating more than 26,000 jobs in Fresno County
Measure C is contributing over $1.7 billion to our local economy
Measure C is raising over $1.7 billion locally and qualifying Fresno County
for millions of dollars in matching transportation funds
Measure C is repairing potholes in each of the cities and throughout Fresno County
Measure C is providing school bus seat belts, ensuring the safety of our youth
Measure C is improving our air quality by providing new clean-fuel school buses
Measure C is improving major commuter corridors, adding lanes to existing streets, roads & highways
Measure C is making safety improvements to over 100 miles of highways, including building 20 new miles of Route 180
Measure C is making safety improvements to over 15 miles of Routes 33, 43, 145 & 269
Measure C is adding miles of bike lanes and community trails throughout Fresno County
Measure C is improving public transit services for all Fresno County residents, including Senior Taxi Scrip, Vanpool and Carpool Programs
Measure C is making safety improvements at Fresno Yosemite International & Chandler Airports
Measure C has a Citizens' Oversight Committee to monitor expenditures & review audits
> Regional Public Transit Program – 24%
Expanding mass transit programs in order to get people out of their cars and improve air quality.
> Local Transportation Program – 34.6%
Maintaining and improving local streets and roads by paving streets and sidewalks, and repairing potholes.
> Regional Transportation Program – 30.4%
Improving freeway interchanges, adding lanes, increasing safety, and improving major commute corridors.
> Alternative Transportation Program – 6%
Consolidating county rail lines.
> Environmental Enhancement Program – 3.5%
Improving air quality and the environment through the School Bus Replacement Program and the Transit Oriented Infrastructure for In-Fill Development Program.
> Administration/Planning Program – 1.5%
Administering the programs provided to the FCTA and Fresno COG.